One thing I love about the internet is that it allows me to find all sorts of new food ideas and recipes. I mean, seriously, I cannot tell you how big my "recipes" computer folder is (FYI: it's 103 MB), which doesn't include the physical binder of magazine tear-outs, and my massive Pinterest boards, broken into "
Om Nom Nom Nom
" (less healthy recipes) and "
HEALTHY Om Nom Nom
" (self-explanatory). I'll even take a snapshot with my phone of something that looks good in a magazine in a waiting room. Like I've said, I do honestly love to cook, I'm just usually too lazy. Hahaha.
That said, as a motivator to eat healthier, I've been seeking out and trying new ones, and I've actually found a few that are worth sharing! Unfortunately, I'm not a food blogger, so I rarely (if ever) take pictures of my food - and the few times I do, they're pretty crappy... as evidenced by previous food posts. xD
(None of the pictures are mine, please click the links to go to the recipe!)
Mexican Chicken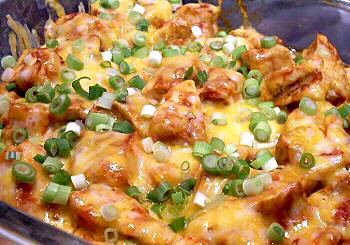 We liked this a lot, although I want to find a better enchilada sauce OR maybe try making my own - the sauce I bought had a weird bitterness (but it didn't bug The Hubs). We served this with refried beans and a salad, and I honestly didn't miss tortillas.
Adobo Pork Chops
THIS IS SO GOOD. The key is to let it marinade a LOOOONG time; I made this full recipe, but only cooked half the day of, and froze the other half - the frozen half we had a couple of weeks later was waaaay better. The Hubs figured it was the fact that it marinaded as it defrosted overnight in the fridge - the flavor really penetrated, whereas the first batch was tasty but not as deep (despite a 6-hour marinade).
Slow-Cooker Savory BBQ Chicken
I made this with chicken legs (They were cheaper at the time), and it was tasty. Might try adding a smidge of sweetness with Stevia next time, though, because we like our sauce a little sweeter.
My friend Traci's chili
It's goooood. Not too spicy, a little too tomatoey, but that's a bug that can be worked out.